Using imaging guidance for injections and other procedures helps to better visualize the area being treated and allows for more accurate administration of medication. Rehabilitation Physicians, PC is a leader in fluoroscopic and ultrasound guided injections and interventional pain management procedures. We provide both options in our Novi and Howell offices.
Fluoroscopic guided procedures are done using a visually aided computer system and x-ray technology. Fluoroscopy is used primarily for injections into areas of the spine and joints that are deeper in the body. Ultrasound guided procedures are used primarily for smaller or more superficial joints and soft tissue injections into muscles or around tendons and ligaments.
Understanding Your Interventional Procedure Therapeutic Injections Under Fluoroscopy or Ultrasound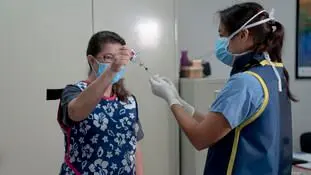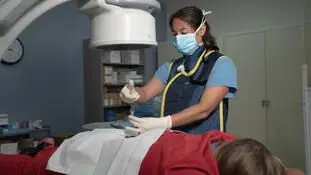 What is an interventional procedure under fluoroscopy or ultrasound? - Your doctor has prescribed a minimally invasive injection to help relieve you pain. The injections are done either under fluoroscopy or ultrasound so that the physician doing the procedure is able to visualize the specific area being injected. These injections are meant to be both diagnostic and therapeutic. Diagnostic in the sense that if you feel better, your doctor knows that the injection they ordered treated the problem causing your pain. They are therapeutic in that they do not merely mask pain but actually treat the condition causing the pain. However, they do not change the underlying anatomy. The medication used is a steroid which reduces inflammation thereby decreasing pain. Some injections also use local anesthetic such as lidocaine.
How do I prepare for the procedure? What steps will be taken before the procedure? - Your doctor has ordered a joint, bursa or epidural injection after a thorough examination and review of your records.

Your medication list will be reviewed and discussed. You will be given a prescription form which lists the medications that need to be discontinued and the appropriate time they need to be stopped before the procedure. Please discuss with your doctor if you have or take:

Blood thinners
Aspirin
Any active infections or are on antibiotics
Open sores, wounds or rashes
History or cancer/chemotherapy
Liver disease
Low platelets
Rheumatologic conditions such as rheumatoid arthritis or lupus
Any medications you take that might lower platelets or predispose you to infection

*The above will be reviewed with you again on the day of your procedure
You may have blood work ordered or need imaging such as an MRI done before the procedure. Your doctor will discuss this with you at the time the injection is ordered so this can be done prior to your injection appointment.
Depending on your procedure you may need a driver. Generally, this applies to people getting cervical epidural steroid injections and those getting conscious sedation such as Valium.
We do offer conscious sedation for appropriate patients. This can be discussed with your doctor at the time the injection is ordered.
Please inform you physician if you have had fevers, injections, or antibiotic treatment within 4 weeks of your injection. You must be healthy to have any procedure.

Potential Risks - Below are potential side effects. Some risks are specific to certain procedures. The risks include but are not limited to:

Bleeding
Infection
Allergic reaction
Spinal headache
Facial flushing

The day of the procedure:

Please shower to make sure the area being injected is clean. This decreases risk of injection.
You may eat your normal diet before and after the procedure.
You will first meet with the injecting physician who will explain the procedure. Risks and benefits will be reviewed. Any further questions will be addressed.
You will be awake during the procedure. Conscious sedation in the form of oral medication, such as Valium, is available and can be addressed when the procedure is initially ordered.
Unless otherwise directed, please take all of your medications on the day of the procedure, especially blood pressure medications.
The procedures take between 5-30 minutes.

After the procedure:

Some people have immediate pain relief, generally from the local anesthetic. Other injections may take an average of 2-4 days before relief is noticed, as the steroid can take that long to decrease inflammation which then decreases pain. In some instances there is increased discomfort for a day or two until the steroid starts to work.
You will be given specific discharge instructions after the procedure either by a physician or a nurse.
You may take a shower to keep the area clean after the injection. Do not soak in a bath, hot tub, or in a pool. Do not use heat for 24 hours after the procedure as this can increase risk of infections.
Specific instructions will be given to restart any medications that were discontinued prior to the procedure.
Please follow up with the doctor who ordered your procedure within 2-4 weeks.
For more information or to schedule an appointment, please call (248) 893-3200.